Ever wondered why some homes inside receive so much natural light or why other homes seem to be shady and gloomy? The reason can be the orientation of your house. This detail is often overlooked when planning your home or buying an existing home.
But what exactly am I talking about? Let me quickly explain what I mean by orientation of your home. It's in fact the positioning of a building in relation to the sun's path and is also influenced by the seasons. But why does it matter so much? If your home is positioned the correct way your living areas will be filled with natural light. As humans we are naturally drawn to natural light. It does make us feel good and increases our happiness. Observe how you feel when you are sitting in a shady room it immediately affects your mood – at least mine 😃!
The secret is natural light
The North side of your home is the jackpot. Your living areas ideally should face North as it instantly fills your home with natural light making it a beautiful open and bright space.
Your bedrooms ideally face East or South. The rooms facing East receive sunlight in the morning and fill your room with golden morning sun. Wouldn't it be wonderful to be woken up by the first sunrays of the day….? These rooms won't heat up as much as the hottest part of the day is in the afternoon.
Rooms facing South don't receive direct sunlight and remain quite shady throughout the day. Large windows and doors will help brighten up those rooms though.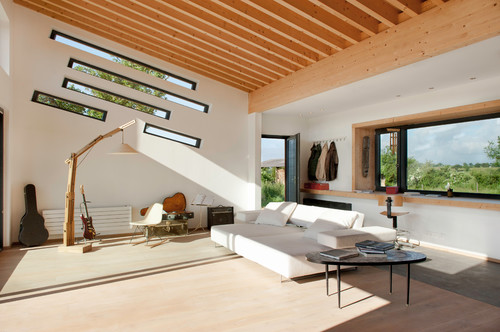 Why should my living areas face North?
Because we spend most of our time at home in the living areas during the day. Let me guide you on a journey … Imagine your kitchen and living areas are facing South – this space will be quite dark and shady all day and you might have to turn on your lights for the most part of the day too. How would that make you feel?
I've walked into a house where these important rooms were facing South and you literally had to have your artificial lights turned on pretty much all day. We don't really feel comfortable in dark shady rooms – it also translates as cold and uninviting rooms.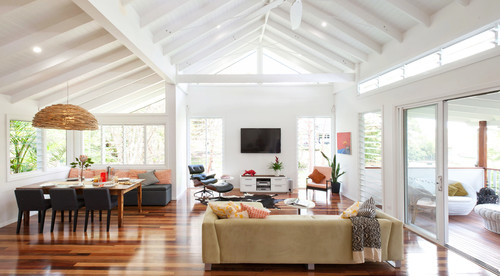 Solutions if the orientation is not perfect
If your block of land is positioned in a way that the ideal orientation is not possible – take a deep breath… There are solutions you can work on to make the most of natural light.
Avoid sloped or angled verandah roof running along the house
At least 2700mm ceilings
Maximize your window sizes
Skylights
Raked ceilings
Verandah/ decking cover with a flat and clear roof
The first one is to not have a sloping or angled verandah roof running along the house. Have at least 2700mm ceilings to create a feeling of space inside and maximize your window sizes. And the hero would be incorporating skylights into your build and raked ceilings.
What about rooms facing West? These rooms are filled with the afternoon sun and will heat up. Therefore I don't recommend having your bedrooms facing West. Also avoid having your main entrance door facing West unless it is very protected and sheltered. Usually the rain and weather is coming from the West. Another tip would be to minimize windows on the west side.
Selling your home
It certainly is a very positive aspect if your property and home is facing North or North-East and sure is mentioned by the real estate agent to prospect buyers. Another tip would be to stage your property for sale. It is an investment but if done by a professional it certainly can increase the value of your home. If your property is facing South and is dark and gloomy, it is important to paint the house with a beautiful slightly warm white and keep the overall scheme light and airy but warm. You can introduce warmth with lots of texture and earthy tones. Another tip, what colours should you avoid?
cool whites
grey's
cool colours in general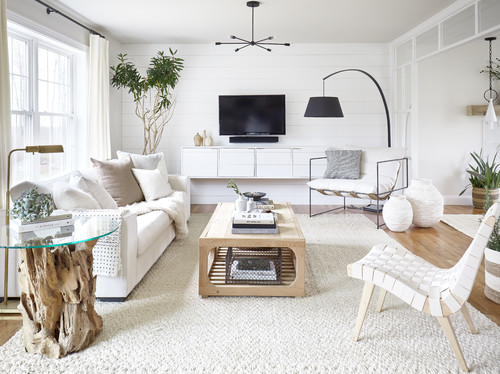 Thank you for reading. Drop me a comment below if you are struggling with this. Would love to hear from you.