Let's talk about bathroom mirrors! It's one of the staples people only give little thought to. In this article we explain different mirrors and their purpose. This helps you to find the right bathroom mirror for you.
What do we need to think about when choosing our own bathroom mirror? The main distinction to make is to decide if your mirror needs to serve functional aspects or if it is purely decorative. This comes down to how you intend to use your bathroom, ensuite or powder room. Another consideration is the size of these rooms.
Let me introduce a few mirrors in different sizes and shapes, with and without storage and some with lighting.
Round Mirrors
Round mirrors are very popular at the moment, as they add a nice and decorative touch. Balanced designs are created by playing with different shapes in different sizes. When choosing your mirror just make sure it is large enough for you so you can do your hair or make-up comfortably. A rule of thumb is that your mirror should be at least the same size or a little larger than your basin.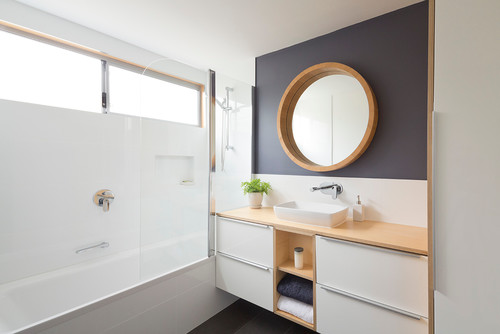 Mirrored Cabinets
Mirrored cabinets are great. If you make the decision early you can recess them into your bathroom walls, so the mirror sits flush with the wall and doesn't protrude. It is a great solution if you have a small space and your vanity is therefore smaller and doesn't accommodate for your storage needs. What necessities can you store in a mirrored cabinet?
Store your creme's, toothbrush and -paste, razors and shaver. Install a power point into your cabinet and charge your toothbrush or shaver in the cabinet.
Mirrored cabinets come in all different shapes and sizes as well. You'll find round ones, oval ones and traditional rectangular ones.
LED Backlight Mirrors
They are a fantastic way to add some ambience lighting to your bathroom. Ambience lighting adds comfort and character to your space. A LED backlight mirror illuminates the bathroom just enough to take this beautiful relaxing bath after a busy day.
However, the lighting behind the mirror does not serve the purpose of task lighting. If you are considering this type of mirror and need good task lighting for putting on make-up and shaving your beard I recommend to install additional lighting. Preferably it is installed between the mirror and where you are standing. If task lighting is shining from behind where you are standing it will cast a shadow onto your mirrored image and makes it much harder for you to see what you are doing.
Simple Mirror Sheet
This might be the best option if you have small kids, as these mirrors are installed quite low and usually cover the width of a vanity. With these mirrors you get the most coverage. There are a couple of con's with this mirror. You don't have face-level storage. To balance that make sure your vanity is large enough and offers adequate storage for you and your family. Since they hang so low and close to the basin you'll have constantly water splashes behind the basin. Have a microfibre cloth ready to wipe down splashes after brushing your teeth or washing your face.
Decorative Mirrors
Decorative mirrors are great for small powder rooms/ WC. Usually you don't perform any daily tasks such as doing your hair or putting on make-up in these small rooms. Powder rooms usually serve the purpose of providing an additional toilet for your family or to have a separate toilet from the bathroom. You most likely do not need a functional mirror. Choose something decorative or fun if you desire.
There is a lot to think about when choosing the right mirror for your bathroom or ensuite. When my clients say to me "I did not think of that" or "I didn't know that" ensures me I'm doing my job. If you need help to make those hard decisions I'm here to help and assist you.
I hope this little guide is helpful. Much love,