Let me tell you about the 5 most common kitchen design mistakes to avoid. Making these design mistakes can be frustrating for you in the long run. These mistakes are either hard or costly to fix. Considering those ideas will help you to create a kitchen you'll love for years to come.
Designing a kitchen is a complex task as there are so many components to consider we usually don't think about instantly. A new kitchen is a long-term investment, so getting it right from the get go is essential. Here are some key ideas to consider when planning a new kitchen, whether it be renovating your existing home or building a new home. This list will help you not making those mistakes which would be really hard and costly to fix afterwards.
Mistake #1: Not taking the time to plan & Ad-hoc Planning
This is a big one. I experience again and again that either the client hasn't been observed or interviewed well enough to establish their needs and lifestyle. Or often people are wanting to do it themselves but then finding themselves in an ad-hoc planning style, which can set you up for design failure.
Think about what is working well and what isn't working for you in your current kitchen. This will tell you if you need to make bigger changes or if it's more decorative changes.
Another tip would be making a wish list of what you would love to have or desire in your new kitchen. Don't limit this process by thinking about possible cost. Once you have established your wish list, then you can set priorities. (More on planning your kitchen over here!)
Mistake #2: Following trends vs Personal needs
Trends come and go. Sometimes people see or hear about an idea and they want it but it might doesn't fit with their lifestyle or how the space functions. You need the skill of being able to zoom out and consider the bigger picture but also being able to zoom in and think about the details and how the overall concept interlinks and works with each other.
A great example is having your sink in the butlers pantry to hide the mess, which is a good idea. Of course no one likes a messy kitchen.
What can happen here is that your sink is too far away from your meal preparing and cooking area which makes it impractical and unfunctional. Now imagine this…. How many times do you walk or turn to the sink while cooking to wash vegetables, your hands or need to drain hot water from cooking? A lot – at least me. If I would need to walk a couple of metres, I would get annoyed with it very quickly.
To solve this problem you need to plan your working triangle very well or you might need to plan for a second sink which adds cost.
Mistake #3: Traffic flow
Poor traffic flow can be the result of not considering how many people will be using the space and therefore a layout is chosen which doesn't suit your lifestyle.
In a tight kitchen space with only one entry point (usually Peninsula kitchens) you might be stepping onto each other's toes. The reason for this is that the kitchen entry point is not wide enough and there is the fridge or pantry positioned right at the entry point. We mainly see Peninsula kitchens in older homes.
Another problem can be that the working triangle is too large or gets blocked by a kitchen island bench. A working triangle is the relationship between cooktop, fridge and sink.
Mistake #4: Poor & unfunctional storage
What is poor or unfunctional storage?
Poor storage is when you don't have enough storage for all your items. You most likely store a lot on the benchtop which takes up valuable space. It usually is the small appliances we use everyday and can't be bothered putting them away after use.
Unfunctional storage is when your items in the cupboards are not easily accessible. It makes it much harder to access either items in the pantry or pots and containers in the cabinets.
Both issues mentioned can be resolved though. Small appliances can be cleverly stored away in an appliance cupboard. Then I can not recommend enough to choose drawers over ordinary base cabinets. Yes, you are paying more for them but it is totally worth it. No offence but especially when we are getting older it is even more important. Drawers slide out all the way and all stored items are easily accessible. So much more ergonomic our bodies will thank us for it.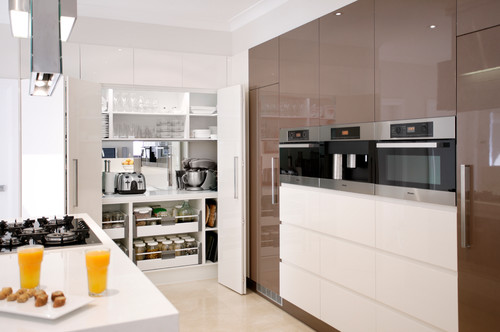 Mistake #5: Inadequate lighting
This is another major one, but important one. Task lighting in the kitchen is often something we don't think about either.
What is task lighting?
In general an interior lighting plan is made up of 3 components – general lighting, task lighting and ambience lighting. This actually applies to any room in your home.
We use task lighting to help light a specific area well where we perform tasks. In the kitchen task lighting is usually installed under overhead cabinets to lighten up the benchtop area. Why do we need it?
So general lighting is the ceiling light in form of a batten, tube, downlights etc. In the kitchen light fittings are usually installed in the centre of the room. When you face the benchtop the light behind you will cast your own shadow onto your working area. It makes it harder to see what you are doing. Therefore it is important to include a well thought out lighting plan into your kitchen plan.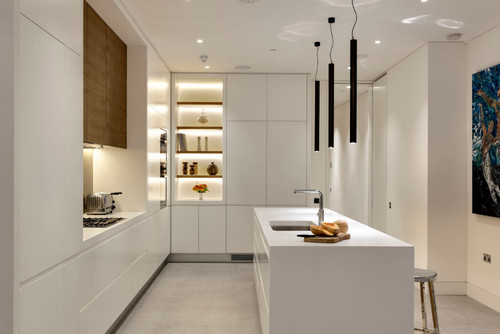 I hope you could take away some practical tips and can incorporate some of those ideas into your own design. Reach out to me if you have any questions or design challenges to solve.