This week I would like to introduce 5 adaptable home design elements. Before we dive in, I would like to quickly explain what adaptable design is. A home is adaptable, when it can be easily and cost-effectively modified in the future to serve our changing needs.
Preparing for retirement
Are you in a stage of life where you are preparing for retirement? You would like to build a new home for your purposes? If this is you then you should consider these 5 adaptable home design elements to make your house more flexible in the future. Your home can adapt with your changing needs over time more easily and cost-effectively. This can save you a lot of stress, time and money in the long run. Building a new home is an investment for decades to come.
Making life easier in the future
Usually later in life we are building for the next decades to come. We want to finally settle and not taking on the stress again a move brings with it. How can we prepare for the future? As we grow older we might have physical limitations to overcome, e.g. changes in vision, hearing, balance, coordination and memory. Implementing adaptable design elements can avoid you costly changes you might be facing later on in life. Retrofitting is about 22-times more cost intense. What can you do today to make your life easier in the future?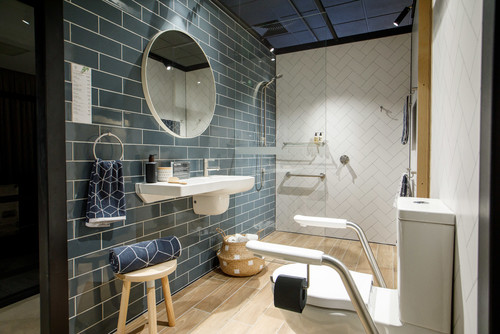 5 adaptable design elements based on the Livable Housing Design Guidelines
Dwelling access – ensuring there is a step-free access to the main home and providing a safe and continuous pathway from the street access and the parking area. The minimum clear opening width of the main door should be of 820 mm
Internal doors and corridors – doors should allow a minimum clear opening width of 820 mm incl. a level transition. The corridors and passageways should be of a minimum clear width of 1000 mm to allow ease of movement.
Toilet – there should be one easy accessible toilet on the ground floor. This means if the toilet is separate from the main bathroom, the minimum clear width is 900 mm between walls. Additionally a minimum of 1200 mm clear circulation space forward of the toilet pan exclusive of the swing of the door. The reason being is, that if a person collapses on the toilet the person is not actually blocking the door from the inside. To avoid this the door could either swing outwards instead or removable hinges can be installed.
Reinforced walls around toilet, shower, bath to support the safe installation of grab rails at a later date
Bathroom that contains a step-free shower recess
Photo by CARNEMARK design + build – Search bathroom pictures
Why you should consider these elements
These 5 adaptable design elements refer to the structure of a home. If you are building a new home later in life it is definitely worth taking these tips into consideration. But it is also for younger families something to think about. During a houses lifespan it is most likely a house inhabits more than just one family over time. If you are selling your home it can open up your home to a larger market. The potential buyer is not restricted to a certain demographic.
Any questions leave a comment or contact me today!