Ever walked into a paint store and felt overwhelmed by the large choice of white paint colours available?
In fact any brand has about 150+ white shades of paint colours to choose from. Some of them are only slightly different which makes you your head scratch. This is a guide on how to find the perfect white for your home.
Choosing your paint colour can be quite complex and definitely stressful, especially if you don't know much about colours and how they are formed. Once you are buying white paint, you will notice that white is not just white. A lot of home renovators or home builders tell me: "I only want a neutral, subtle scheme – preferably white walls." What they don't realize is that whites, greys and neutrals are one of the hardest colours to choose. Why? The answer is because of their undertones. Let me quickly explain what undertones are.
What are undertones?
Well, when you look at a colour you can tell me right away what colour it is, that's the obvious part. But now, almost every colour has a second colour subtly come through. This is the so called undertone. Undertones are produced by mixing colours with each other, this enables us to have such a large variety. But today we are focusing on whites. There is one major distinction between white colours and that's if it is a warm white or cool white.
What are warm whites and cool whites?
If a white is warm or cool, depends on their undertone. Cool whites have either a blue, green or black undertone. And warm whites have a yellow, red or brown undertone. A pure white would be way too stark for your home and would create an uncomfortable, cold and clinical feel.
There is one big tip I can give you. When deciding if you should go for a cool or warm white depends on how much daylight your living areas get and also on your interior style. North facing living rooms are flooded with natural light if you have large windows which creates a perfect backdrop for cool whites. However, these whites can translate as shady and even cast a blueish shadow onto your walls when used in rooms which don't receive any direct sunlight. You see, deciding on the right undertone is essential.
What are the most popular whites?
I'm going to introduce you to the most popular Dulux's whites, as this is my preferred brand. They simply have the largest variety available and offer great tools to work with. I love lots of choices – you really find the perfect white for any project.
Vivid White
Lexicon Quarter
Lexicon
Natural White
Casper White
Whisper White
Vivid White
Vivid white is considered as a cool white and it is Dulux purest white they offer. It's a fresh, crisp white which makes it a great choice for wood trims and even ceilings. It also is a great choice for your walls, if you get lots of natural light into your living areas – this obviously depends on the orientation of your house. It won't cast a blueish or yellowish shadow, it is quite pure. A pure white makes bold coloured artwork pop. Here is my styling tip for you to get the look right. Layer lots of warm textures in the room and add warm wood flooring to complete the look.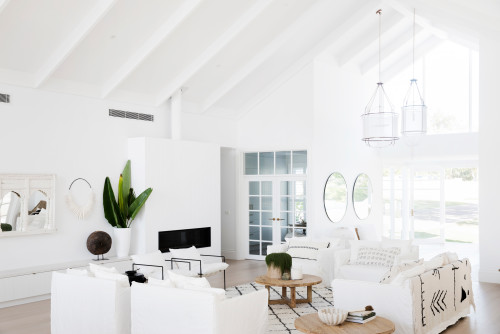 Lexicon Fullstrength and Lexicon Quarter
Lexicon fullstrength is definitely a cool white with a blue undertone. So is Lexicon Quarter but only quarter strength. It means it has less blue colour in it and is therefore more subtle. Both colours reflect contemporary interior styles really well, but would freshen up a period home amazingly too. If your open plan living areas are facing North and you have large windows and doors so your space receives lots and lots of natural light, this white will appear as a beautiful crisp white. In shadier rooms – the ones facing South – it probably will cast a blueish shadow onto your walls. A great tip is to use for your South facing rooms – the ones without direct sunlight – Lexicon Quarter strength. It means you are using the same colour throughout the house for cohesiveness but it will appear lighter in shadier rooms.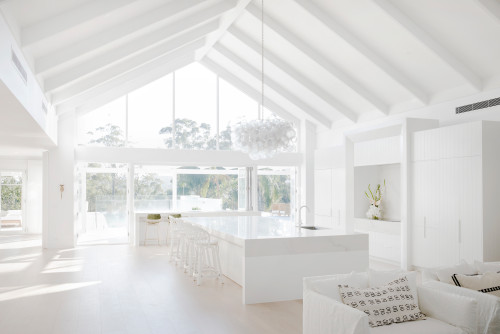 Natural White
Natural White is a beautiful soft, subtle warm white. Subtle in the way that it has only a little yellow tint in it. Great to use if your interior does need warming up as your home is not flooded with natural light.
Natural White also works well with warm blond timbers, timbers with a red undertone and it is a great tint for period homes to make them look contemporary. It works really well with heritage colour palettes.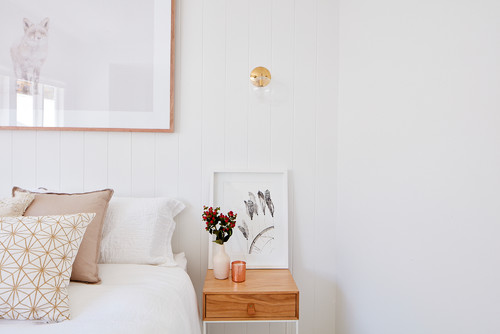 Casper White Quarter
Casper White Quarter is also a warm white, but it has a beautiful grey base which neutralizes the yellow tint. It pairs great with earthy colours and on the exterior it translates as a crisp white. Remember, that colours outside appear about 2-3 times brighter due to daylight.
If you don't like yellow tints as much as I do, then this might be your go to colour. I only use whites with a very slight yellow tint, if you really need that warmth in a house. The reason for that is that daylight can actually enhance a yellow tint, which can create that classic old-fashioned look. And we don't want that!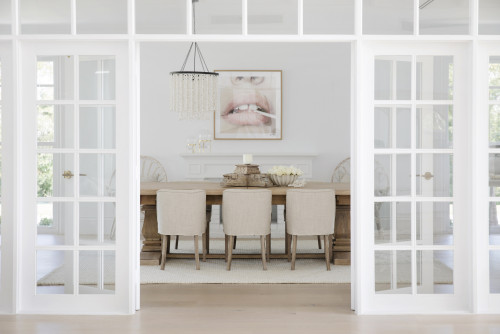 Whisper White
But I would like to introduce you to a creamier white. Whisper White is definitely a warm white and often described as ivory. It works really well with period homes, such as Victorian or Edwardian styles. Introducing black accents in your home can work well with a warm white as it creates a soft warm background, where as a cool white might be way too stark and creates this cold uncomfortable feel in a home.
My hot tip for you before you get started
Always select a couple of white paints buy a sample pot each and apply them on a thick white cardboard and observe what the colours look like throughout the day in your space. The reason being is that the visual appearance of colour changes under different light sources. You definitely notice a difference between natural light and artificial light and then it even looks different during different seasons – summer and winter – as the sun changes it's solar orbit.
Not sure if you are confident enough to make the decision by yourself?
Let me help you! Picking the wrong colour can be a costly mistake. I offer a colour consultation package. We work closely together to establish a colour scheme but also pick out your paint colour. Email me today – fran@designfulspaces.com.au
P. S. Before you go, you might would like to learn more about painting your home.